From Friends Of Alex: This is a call to community action: On Alex's next month anniversary -August 21st- there will be an unprecedented vigil and community march to City Hall next day
July 22 2014
On the recent vandalism to the Alex Nieto Memorial on Bernal Hill:
CON SAFOS protected the placasos (names) from spiritual destruction. If you wrote C/S below or next to your placa, you were protected from the dishonor of being crossed out. Con safos meant with safety, with respect, with sincerity.
But there were certain sites that were sacred, places and placasos that did not need the protection of C/S because the community knew they were off limits. They included the churches, the muraled walls, the graves.
The vandalism to the Alex Nieto Memorial is a call to consciousness. No homey crossed out Alex's face, for a homey would know the rules. Certain things are taboo. This vandalism is from someone who wants to erase Alex's face so that it is not recognized, so that no neighbor can be a witness to his killing, so that no one can be reminded and reminded that on beautiful Bernal Hill, an innocent brown man was stitched by over a dozen bullets fired by the San Francisco Police Department.
Be conscious: We are Alex Nieto. We are present at Bernal Heights, in the Mission, Oakland, Santa Rosa, Pacifica, Salinas, Worldwide. Brown lives matter.
My brown face, your brown face, our brown spirit will never be erased. Ultimately, we all return to the color of this gypsy earth, the color of Bernal Heights, and that dust and dirt will forever remind and remind and remind us of what happened that soft, sunny day when gunshots cracked the peace of our hearts. The truth cannot be erased.
Alex Nieto rises.
July 15 2014
We are sad to report that in the past two days the memorial altar to Alex Nieto has been vandalized. Photo: Refugio Nieto standing at the site of Alex's memorial altar.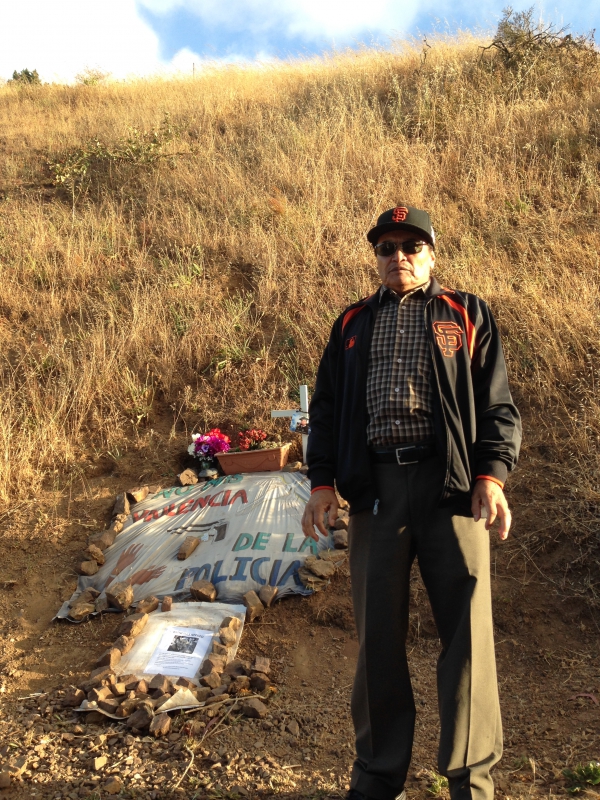 Someone first took the banner that said "No Más Violencia de la Policia" (No More Police Violence) and last night, the cross (with his portrait) set close to the site of his death was removed. Alex's parents —Elvira and Refugio Nieto— tirelessly refresh flowers and maintain the banner and altar. Yesterday, knowing about the mysterious loss of the banner, we gathered with Windsong (a City College student, a Bernal Hill dweller since childhood, and the original designer of the banner) to design another one that we intended to place again today. We suspended any judgement about why the banner disappeared, but with the loss of the cross, it is a clear malicious act.
The legal process that follows a police shooting puts the burden on community to keep the memory of injustice alive. The altar and memorial site for Alex Nieto is a critical piece of resistance against police tactics of intimidation and efforts to induce collective amnesia. The memorial altar is a reminder to every person walking past that site that justice is pending.
Today, we family, friends, and supporters of Alex and his family will set up a new memorial banner and cross. We invite you to come around at your convenience and also protect this site and honor Alex's memory as well. Help us protect the memory of his unjustified killing by SFPD on Bernal Hill Park!
We still have NO UPDATE from the D.A. on any of his promised actions to expedite the delivery of the autopsy report. We still have no information from the police that they could easily make available (original 911 call, any video footage, witness testimonies, etc.) It is up to members of Alex's community, his neighbors, and the broader community of supporters fighting injustice to protect his memory,
and create a public space to reflect upon his death. We are asking for an in-depth and fair outside investigation.
At sunset, there is always a red tailed hawk hunting on the hill. The past month anniversary of Alex's death, during Burritos on Bernal, we opened and closed our community circle talking about the Hawk, which has come to symbolize a spirit protector for many of us. As we closed the circle, the Hawk buzzed us so close that we all gasped in awe.
Hawks have stunningly sharp vision. The politicians (Mayor Ed Lee, D.A. Gascón, Chief of Police Suhr, the P.O.A., etc.) might not want us to learn the truth, but there is a truth. We have a silent witness to the events of that day. The Hawk knows what happened, and like the hawk we invite you to bear silent witness to the truth, until the legal process provides untampered evidence in response to our demands.
The Hawk knows what really happened, and so do you…
This upcoming Burritos on Bernal, Monday July 21st, marks Alex's fourth month anniversary. Please accompany us to lay down our new resistance banner.
The Nieto Family and members of the Justice & Love for Alex Nieto Committee will have a table for donations and information at the Brava Theatre during the days of performance of "Love Balm For My Spirit Child" (July 13; July 18, 19, 20th – Fri & Sat 8pm; Sun 3pm today and next weekend.) We will be having a talkback on Saturday July 19th after the performance. The Brava Theatre has offered to make July 19th a benefit for the Nieto Family. (Thanks Brava!) More info here: http://www.brava.org/current-shows/current-shows/love-balm-my-spirit-child/
[This post is also in memory of Andy Lopez. The Sonoma County D.A. concluded her investigation last week determining that deputy Erik Gelhaus committed no criminal acts in killing an unarmed 13 year old boy. We stand united.]
http://justice4alexnieto.org/2014/07/13/call-to-community-action-alexs-memorial-site-vandalized/