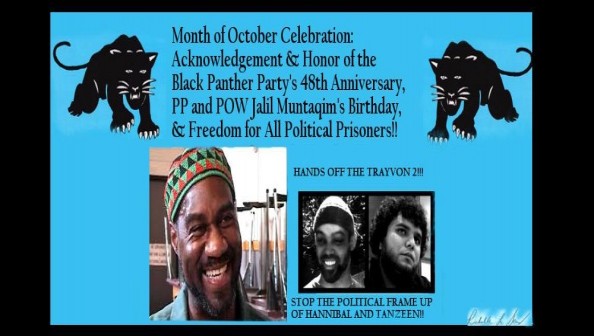 By Aisha Mohammed

Please Join us for the 48th Anniversary for the Black Panther Party, Political Prisoner/P.O.W. Jalil Muntaqim's Birthday, & Solidarity for the Trayvon 2.

Shango Abiola-MC-Discussion Host

CONFIRMED SPEAKERS 630pm-830pm :

Melvin Dickson-CCBPP-On the BPP
Jovanka Beckles-Richmond Vice Mayor-TBA
Frances Moore-Aunti Frances Self Help Hunger Program
Aisha Mohammed- On PP Jalil Muntaqim
Anita Wills-Report on Ferguson
Sharena Diamond Thomas-On PP Antoine Thomas
Nawal Tamimi-Middle East Children's Alliance-On Gaza
Hannibal/Tanzeen-On Trayvon 2
Yusef Bunchy Shakur TBA
Mamma Ayanna Mashama-MXGM-Tribute to Baba Herman Ferguson (RIP)
MC K-Swift-Performance Host
https://www.facebook.com/mckswift
TUNES SPUN BY DJ ITAL RA
https://www.facebook.com/djitalra
CONFIRMED PERFORMERS 9pm-12am:
Audiomatic Tha Fyah Starter (Shango)
https://www.facebook.com/pages/Audiomatic-aka-Servant-of-The-People/191063900929519
Eseibeo the Automatic
https://www.facebook.com/eseibio
https://www.youtube.com/watch?v=qKu-laBsMEY
Qlassic
www.reverbnation.com/play_now/21846104?utm_campaign=a_public_songs&utm_medium=unknown&utm_source=page_object_news_item
Judah Sun
http://www.pandora.com/land/station/2221340344148882770?referrer=judahsunn&shareImp=true&seed=station
Fly Benzo
https://www.facebook.com/TheRealFlyBenzo
https://www.youtube.com/watch?v=k1H8Q2DENr0
Ms. Incredible
https://www.facebook.com/incredible.period
https://www.youtube.com/watch?v=B-QaTylTg3g
Jomo Dread
https://www.youtube.com/watch?v=iSD9h0LJTSU
Richelle Scales & Ruthie Price
m.reverbnation.com/artist/richellescales
Sia Love Music/Poetry (Meres-Sia Gabriel)
https://www.reverbnation.com/meressiagabriel
The Prince
https://www.facebook.com/theprince.promopage?fref=ts
Ras Ceylon
https://www.youtube.com/watch?v=8HL2ecsxBFU
https://www.facebook.com/pages/Ras-Ceylon/91677385259
Alia Sharrief
https://www.youtube.com/watch?v=0v_goRVW-Bc
https://www.facebook.com/AliaSharrief
Ark Aingelle
https://www.youtube.com/watch?v=N21_MZNa1oo
https://www.facebook.com/pages/Arkaingelle/126307617263
PaRadise ThePoet
https://www.youtube.com/watch?v=KEVEaeJmATw
………………more to come!!
Revolutionary greetings.
We hope this message receives you in fighting spirits. On behalf of the Commemoration Committee for the Black Panther Party & the Bay Area Solidarity Committee for Jalil Muntaqim, – and all oppressed, struggling people worldwide, we-would like to ask for your support in our commemoration of the 48th anniversary of the Black Panther Party/ Birthday celebration for New Afrikan Political Prisoner of War Jalil Muntaqim and solidarity with the Trayvon 2.
The purpose of this event will be to raise awareness about BPP PP/POW's and Political repression activists face today. From Ferguson to Gaza back to Oakland,
We will be discussing the history and political repression against the BPP (Speaker: Melvin Dickson, CCBPP) , the framing of Hannibal Shakur and Tanzeen Doha (the Trayvon 2), two Muslim men of color who were arrested during the protests of the acquittal of George Zimmerman for killing Trayvon Martin and were charged with felony vandalism (for supposedly breaking a window), as well as the recent atrocities in Gaza. We also will be featuring conscious music from hip hop and reggae artists.
In light of the recent incursions in Ferguson & Gaza, and the continued aggression against the People of Oakland, we will also be examining the current situation of oppression and brutality in Ferguson, Oakland & Gaza and how this country is swiftly becoming a police state, with it's treatment of the people, mirroring the tactics and treatment of Gazan's with militarized weapons and brutality.
While Gaza is known as the world's largest open air prison, the USA is known for having one of the highest rates of incarceration in the world. The USA incarcerates more people than any other country, and most of these are people of color. These trends and tactics must END and it is incumbent upon we the people, to educate and liberate our people. As Jalil says "We Are Our Own Liberators"!
We hope to draw correlations between the targeting/framing of BPP members in the 1960's and 70's to the criminalization of people who resist capitalism and white supremacy from Oakland to Ferguson to Gaza. This will be an edu-tainment (education/entertainment) event with BPP alumni guest speakers, poetry, live art, hip-hop, reggae, live bands and more. It will also be a fundraiser for Jalil Muntaqim (BPP PP/POW), and the Trayvon 2 (Hannibal Shakur and Tanzeen Doha).
Jalil Muntaqim has been a PP/POW since 1971 and has remained a very active contributor to the struggle for Black Liberation and the New Afrikan Independence Movement.
https://www.youtube.com/watch?v=_StrE2Ia7QY
Hannibal Shakur and Tanzeen Doha will be in need of support with funds for living expenses from the cost of these trumped up charges as they prepare to go to trial. In addition to pulling the Trayvon 2 from their families and projects, this case has delayed Tanzeen's studies, forcing him to take out extra loans, and disrupted Hannibal's fight against stage II cancer. Donations are encouraged; however no one will be turned away due to lack of funds.
https://www.youtube.com/watch?v=1S5DE4I9wzY
We are trying to get traveling expenses for guest speakers and headlining artists for the concert following the discussion. We are honored to have the opportunity to sponsor Yusef Bunchy Shakur, a Father, Activist, Entreprenuer, Mentor, Speaker, Author and Educator who is the Organizer for Restoring The Neighbor Back To The Hood. Yusef Bunchy Shakur is also the CEO and Founder of Yusef Bunchy Shakur LLC, which provides educational training, and workshops for schools, universities, churches and community organizations. Bands/Musician & Speakers will be announced as we confirm.
https://www.youtube.com/watch?v=tphaRNcaqU8
We hope to provide dinner for everyone who attends as well as distribute produce and/or groceries to the people. We will be raffling and selling revolutionary propaganda and artwork. The date for the event is October 10th, 2014.
We are asking everyone's support in whatever means they have to do so. Whether it be monetary donations, volunteering for the event, donating resources and/or artistic services, spreading the word, and/or just showing up.
What we need
-Monetary donations for travel expenses of speaker(s)/performer(s)
-Food donations: cooked to eat at the event and un-cooked for people to take home.
-Literature and audio visual propaganda to distribute and display at the event.
-People to spread the word to their communities, organizations, churches, mosques
-Artist to donate art to raffle and/or sell as a fundraiser.
If you can help or participate, please contact 510-417-9955 or email freedomforjalil@yahoo.com