Originally Posted on FireWorks
On Saturday, March 7th, 2014, a group of people came together to paint a mural on the exterior wall of Qilombo, a radical social center located at San Pablo and West Grant in Oakland. Over the next several days, the mural was completed by a variety of artists. During this time, people began to congregate in the garden every day. A dozen garden beds are now bursting with food and people are always there. This place is now called Afrikatown, and Qilombo is at the center of it.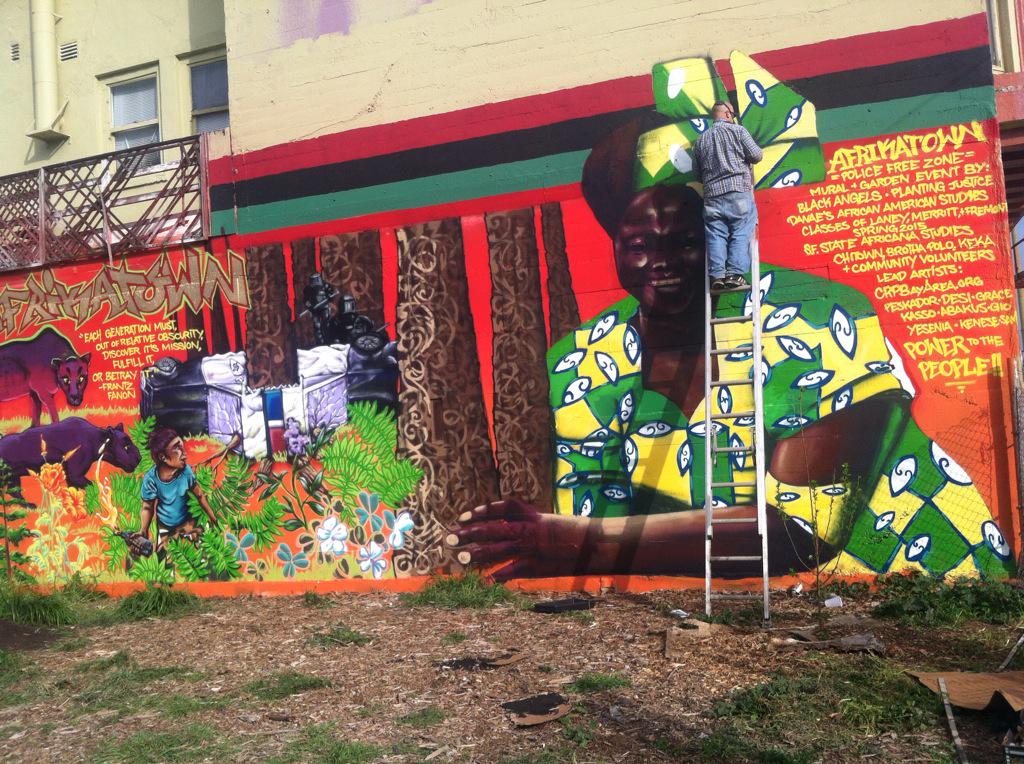 On March 26th, landscapers hired by the owner of the lot arrived with a bulldozer and began to open the fence around the Afrikatown garden but were stopped before they could drive in. A group of people stood in front of the bulldozer and eventually the police arrived. Ultimately, the lot owner backed down and promised to return on Friday, April 3rd. Undercover law enforcement have been seen observing Afrikatown from unmarked cars, as well as two white males in a white van and a silver pick-up truck. The latter are probably contractors.
The entire Afrikatown territory is within one of the "opportunity areas" of the West Oakland Specific Plan (WOSP). Because of this, the block that houses Qilombo and several low-income apartment buildings is now under increased threat of eviction. Just six blocks from Afrikatown is the old Sear's building, now being called "Uptown Station," which is slated to be filled with a luxury food court, BART access, and tech offices. In between, a small park that had been the site of a long-standing homeless camp was recently fenced off. This fence was briefly torn down, like St Andrews further north on San Pablo, but has now returned. The forces of capitalism are gathering around San Pablo – but so is the resistance. Continue reading →